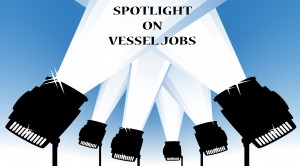 Spotlight on Vessel Jobs
This week VesselJobs.com shines the Spotlight of Opportunity on Aries Marine Corporation. Here's what you need to know.
About this Offshore Company
Aires Marine Corporation, a Louisiana-based company, owns and operates self-elevating workboats and supply vessels in the Gulf of Mexico. Its fleet consists of 30 vessels with liftboats ranging in length from 105 to 200 feet and operating in max depths of 160 feet, and offshore supply vessels (OSV) ranging from 166 to 292 feet.
The company actively participates in the Offshore Marine Service Association (OMSA). Since its inception in 1981, Aires has worked for all of the major producers and has firmly established a reputation of experience and confidence.  The company outlines its policies on safety and encourages its employees to practice good judgment both offshore and at home.
Find Vessel Jobs
There are many vessel jobs at Aires. The company employs over 350 people and offers vessel jobs for both their liftboats and supply boats. Many of these available vessel jobs are for Able-Bodied Seamen, Ordinary Seamen, Deckhand cooks, Mates, Q-Meds, Engineers, and Captains, to name a few.  Aires requires U.S.C.G documentation with various minimum gross tons, STCW training, and AB and OS endorsements. Employees receive several benefits: 401(K), group medical insurance, dental insurance, bonuses, direct deposit, and employment advancement training. Aires also offers Employee Assistance Programs.
Didn't find what you were looking for? Check out our vessel jobs list.