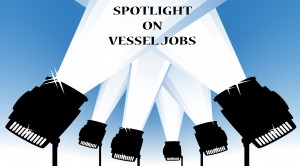 Spotlight on Vessel Jobs
This week VesselJobs.com shines the Spotlight of Opportunity on  GulfMark Offshore, Inc. Here's what you need to know.
If you are curious as to how to get vessel jobs, then GulfMark Offshore may be your ticket to a vessel job.
About this Offshore Company
This company entered the market in 1990 with a total of 11 vessels and has since grown to a fleet of 90 that serves areas all over the globe. With locations in the Americas, North Sea, and Southeast Asia, GulfMark has a substantial global presence. It is also one of the youngest global fleets in the industry and its success is largely attributed to the company's ability to provide high-quality vessels. Their vessel types are various and also contributes to the company's success; GulfMark owns and operates Platform Supply Vessels (PSV), Anchor Handling, Towing and Supply vessels (AHTS), Fast Supply Vessels (FSV), and Specialty Vessels (SpV).
Find Vessel Jobs
Vessel jobs are available at this company. GulfMark is currently considering applications for many positions and in many locations around the world. In the USA, GulfMark is looking for a Master, Second/Third Officer, Chief Engineer, Officer of the Watch (OW), Oiler or Qualified Member Engine Department, Second Engineer, Chief Officer, Able Seaman/Ordinary Seaman/Deckhand, and a Cook for vessel jobs. Requirements for each of these positions can be found on the individual job listings. For applicants who have further questions about the application process, please refer to the company's FAQ page.
Didn't find what you were looking for? Check out our vessel jobs list.