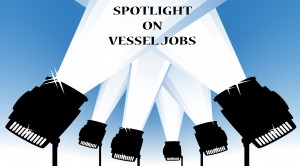 Spotlight on Vessel Jobs
This week VesselJobs.com shines the Spotlight of Opportunity on Hornbeck Offshore. Here's what you need to know.
For those interested in vessel jobs that focus on complex exploration and production activities, Hornbeck Offshore Services may be the right place for you.
About this Offshore Vessel Company
Conducting operations primarily in the Gulf of Mexico, Hornbeck has grown since 1997 to become a leading provider of technologically advanced OSVs.
The company strongly emphasizes their commitment to quality and safety by voluntarily seeking out opportunities to become certified.  They have been certified by the American Bureau of Shipping and the United States Coast Guard for safety compliances and cargo loading and off-loading conformances, among other things. Hornbeck has also received several awards, most regarding safety and no Lost Time Incidents (LTIs).
Types of Offshore Vessels
Their 74-strong fleet consists of offshore supply vessels, multi-purpose supply vessels, ocean-going tugs, tank barges, anchor handling/ towing supply vessels (AHTS), and specialty vessels. They also have 16 vessels in construction.
On and Offshore Vessel Jobs
The company is hiring for both offshore and shoreside personnel and has 36 openings, 14 of which are vessel jobs. These vessel jobs include 500 Ton Master/Mater, Able Seaman, D.P.O., DDE Engineer, and Tug Engineer.
The company requires an extensive application and has strict policies regarding equal opportunity employment, non-harassment, and alcohol and substance abuse.  Hornbeck offers a substantial employee benefits package that includes group health insurance, group dental, Employee Assistance Program, vision discounts, 401(K), employee stock purchase, life and disability insurance, and flexible spending accounts.
Didn't find what you were looking for? Try our vessel jobs list.