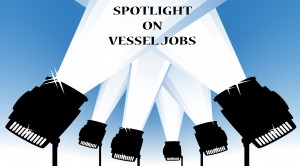 Spotlight on Vessel Jobs
This week VesselJobs.com shines the Spotlight of Opportunity on Tidewater. Here's what you need to know.
Finding vessel jobs can oftentimes be frustrating, but when all the information is available, the process becomes a little more manageable. Companies like Tidewater offer many opportunities to those seeking offshore vessel jobs.
About this Offshore Vessel Company
As one of the largest and most experienced providers of marine support services, Tidewater has more than 350 vessels and has impacted the industry since 1955. The company is highly successful, reporting fourth quarter net earnings of $33.6 million for the period ending March 31, 2012.
Additionally, Tidewater has received several awards and achievements, the most recent being a Certificate of Commendation for their rescue services in wake of the Deepwater Horizon accident.
 Types of Offshore Vessels
Its vessels range from supply vessels to offshore tugs and crew boats. The company has an international presence with locations in the Americas, Africa, Europe, the Middle East/India, Southeast Asia, and Australia.
On and Offshore Vessel Jobs
Tidewater has both offshore and shore-based opportunities for those qualified. The company requires TWIC and STCW for all vessel jobs, a valid U.S.C.G., and valid driver's license. It also recommends an Ocean's endorsement, DP, and GMDSS but does not require these additional qualifications.
Some examples of the available positions are Ton Masters, Ton Mates, Chief Engineer, and Able Seaman. These vessel jobs are accompanied by a competitive compensation and benefits package that includes the following: a company paid retirement plan, 401(K) savings plan, medical and dental insurance, and life insurance.
Those interested in learning more about the vessel jobs will need to submit their contact information, U.S.C.G. license, and resume via an online form. As for shore-based jobs, individuals will need to contact the offices directly.
Didn't find what you were looking for? Try our vessel jobs list.